American Wings over Belgium
With the Iraqi War, questions were raised, mainly by some ministers in electoral campaign, about American military planes overflying Belgium. They forgot, not only past treaties, but the past history and the reasons why such treaties were signed.
Twice in the History, Belgium was invaded by Germany. In both World Wars the British first opposed the aggression and later together with the Americans they defeated Germany and rendered us our freedom.
WORLD WAR ONE
In WW I (1914-1918) a squadron of American volunteers, the Escadrille Américaine, was formed in France in April 1916 and 5 months later became the legendary Escadrille Lafayette. Thirty-eight pilots were on the roll of that squadron and ultimately 209 Americans served with the French. While 542 Americans trained in England with the British Royal Flying Corps where the 24th Black Cock Squadron was famed. At the end of the war the Air Service of the American Expeditionary Forces had 45 squadrons and 35 balloon companies in action on the Western Front over France. Casualty rate had been enormous.
WORLD WAR TWO
WW II (1940-1945) began for the Americans after the Japanese attack of Pearl Harbor on December 7, 1941. But already in September 1940 American volunteers formed an independent RAF "Eagle" squadron that flew on the western front during the entire war. In September 1942* three Eagle Squadrons formed the 4th Fighter Group of the 8th Air Force, part of the United States Army Air Force ( USAAF ). We will see them over Belgium.
The first USAAF action over Europe was not over the western front but started from Egypt with 13 B-24 heavy bombers attacking the Romanian oil fields at Ploesti, on June 12th, 1942.
On the 4th of July, the 8th Air Force ( AF ) pilots flew their first combat mission with Royal Air Force (RAF) marked light attack bombers A-20 Boston against airfields in the Netherlands. The 8th AF build-up was slow, the majority of the still limited Army Air Force resources being rushed to China and Australia and to the War in the Pacific.
The official USAAF first flight over northwestern Europe will happen on August 19th 1942 with American marked Spitfires and B-17 in support of the British and Canadian raid against the German held port of Dieppe (France).
OVER BELGIUM
Soon new aircraft types will be seen in our sky : On 29 August 1942 twelve American B-17 "Flying Fortresses" attacked the Wevelgem and Steene airdromes near Kortrijk and Ostend, 3 B-17 were damaged by enemy fire but there were no casualties.
North Africa is now taking the bulk of the American effort on this side of the Atlantic. The first U.S. fighter sweep attack over Belgium only took place on January 14th 1943; the 4th American Fighter Group "Eagle" Spitfires claimed two FW-190 over the North sea but the Luftwaffe records show no activity in the area that day! It's only in the spring of 1943, after the success of Operation "Torch", the invasion of French northwestern Africa, that the American pressure will be directed against Europe. On April 5th a massive raid of 64 B-17 and 18 B-24 Liberators attacked industrial targets around Antwerp. Misdropped bombs inflicted many casualties among civilians, flak and German fighter opposition account for it. Four B-17s are missing and 12 bombers damaged with 40 crewmen missing and 4 wounded.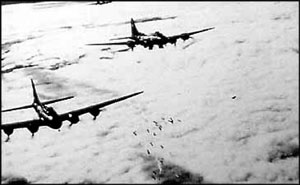 B-17 Flying Fortresses dropping their bombs
On 15th of April 3 FW-190 are the first enemy planes ever downed by P-47 Thunderbolts, they fell between Knokke and Ostend, but 3 of the Thunderbolts are also shot down, 2 Americans are lost but the third one is rescued from the North Sea. Those Thunderbolts were flown by our friends: the "Eagles" (*see Sept.42). On July 25th, 13 B-26 Marauders are bombing the coke ovens in Ghent, 6 will be damaged but with no crew casualties. In December the 9th Air Force first combat mission over northwestern Europe consists of an uneventful sweep of 28 P-51 Mustangs over the Pas-de-Calais and Belgium.
Those were only some of several combat missions affecting directly our country in 1943.
BOMBERS TO GERMANY
Many raids over flew Belgium and were attacked by the Luftwaffe from the coast to their target in Germany. At first the B-17 and B-24 were self-defending. But even the B-17 with thirteen .50 calibre guns to assure a hail of crossfire when a formation of Fortresses came under attack suffered heavy losses. The B-24 did even worse.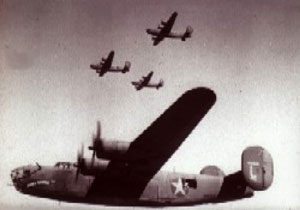 B-24, photo collection Léon "Reginald" de Ville
As from May 1943 USAAF escorts, mostly consisting of P-47, accompanied the bombers but they were very range limited, just as the RAF Spitfires, and had to turn around in the vicinity of Antwerp.
In July some Thunderbolts received unpressurized "bathtub" belly tanks of 115 USG and could barely reach Germany, they had to turn back at Aachen. Casualties were still enormous. The 17 August 1943 raid is notorious. In the morning a long stream of 127 B-17 attacked the Messerschmitt factories at Regensburg. The Luftwaffe and Flak will damage 50 and down 24 of them, 6 falling between Antwerp and the German border. After the bombardment the raid flew on to friendly bases in North Africa avoiding the Huns on the return trip. Two of the battle-damaged bombers crash-landed in Switzerland; the crews survived but were interned. Eight planes will ditch in the Mediterranean, mostly due to fuel depletion. Crew losses are 4 killed, 200 missing and 9 wounded.
Before the survivors landed a second bunch of 183 Fortresses is on the same track, this time their target is the ball-bearing industry of Schweinfurt. On returning to their bases in England they endured more enemy fire; 121 B-17 will be damaged with 3 crash-landing in the UK, 36 others will go down, 16 of them in our country, 2 crews ditching in the North Sea will be saved. For that single day B-17 crew losses are a staggering 7 killed, 552 missing and 21 wounded. 39 Aircraft will go down in Belgium : 16 B-17, 2 P-47 and 21 Luftwaffe fighters !
September 6th sees another disastrous raid to Stuttgart; 338 B-17 dispatched and 45 lost but less through enemy action than fuel depletion for many short-range Fortresses. One B-17 crashes in a Swiss lake and four make forced landings on Swiss runways. Crew losses amount to 2 killed and 333 missing, but 118 crewmen from 12 fuel-starved B-17 that ditch in the North Sea are recovered by the Air-Sea Rescue boats.
End of September will see new 108-gallon long-range drop tanks enabling some P-47 to provide escort all the way to the target and back. But on 14 Oct 1943 another raid ends in tragedy. Out of 291 B-17 and 29 B-24, dispatched again against Schweinfurt, only 229 B-17 reach the objective, 60 B-17are lost to flak or fighter opposition, 7 are damaged beyond repair and 138 are damaged. Crew losses are again staggering: 5 killed and 594 missing plus 40 wounded. 194 P-47 are on escort duty but one group is recalled after entering heavy clouds, a second one returns with the B-24 who abandon the mission. The last two groups will down 13 Luftwaffe fighters over Belgium and northwest Germany but they are only able to provide limited penetration support being of the limited range type. As a result of the unacceptable heavy bomber and crew losses beyond the range of friendly fighters, the 8th AF curtails missions deep inside Germany until enough fighters with sufficient range will be able to escort the raids all the way to the target and back. The arrival in Europe of the P-51 Mustang will alleviate the problem enabling fighter escort to Berlin and back.
And the P-47 will receive new fuel tanks to do the same.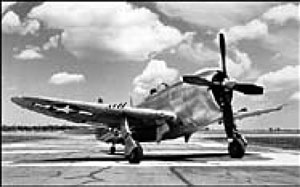 P-47 Thunderbolt
MORE NOTORIOUS RAIDS
will affect directly or indirectly our country in 1944, among them:
On 20 February 1944 the 8th Air Force kicks-off the "Big Week" bomber offensive and the first 1.000 bomber mission ever attempted. With aborts and turn-arounds they were 823 effective sorties, It means enormously long airplane streams opposed by as many as 150 single-engine Luftwaffe fighters on head-on firing passes while twin-engine fighters lobbed heavy canon shells or large rockets from the flanks from beyond machine gun range of the heavy bomber force. A record escort of 815 USAAF fighters; 648 P-47, 94 P-38 and 73 P-51, was dispatched; they will down 59 German fighters and 2 JU-88 over Belgium and Germany while loosing only 4 pilots and the bomber losses will be light, to add a twist on the Krauts the RAF sends 734 bombers the next night ! April 8th, 1944: 196 9th Bomber Command B-26 attack Coxyde airdrome and a marshalling yard at Hasselt and 32 P-47 fighter-bombers attack targets around Hasselt. Two days later 214 B-17 attack aircraft-industry targets and the airdromes at Evere and Melsbroeck and another 143 B-17 unable to locate their target in France attack the Diest/Schaffen and Maldegem airdromes. In the same afternoon 267 B-26 Marauder and A-20 Havoc select as targets coastal defenses, V-weapons sites, marshalling yards and airdromes at Charleroi/Montignies, Coxyde, Namur and Nieuport.
13 April: 121 B-26 + 37 A-20 9th Air Force attack airdromes, marshalling yards, coastal batteries, V-weapons sites and other military targets along the Channel and North Sea coasts, Chièvres, Namur and Nieuport are hit. Also 9th AF P-47 dive-bomb V-weapons sites and 154 B-17 are again on the way to Schweinfurt, 182 B-24 to Oberpfaffenhofen and other targets in Germany and another 227 B-17 bunch to the Messerschmitt factory in Augsburg. 32 B-17 and 6 B-24 are lost and 350 heavy bombers are damaged, 871 USAAF fighters of which 9 are lost with 8 pilots provide escorts for the various bomber missions. 42 Luftwaffe fighters and a trainer are downed over Belgium, Luxemburg and Germany
More and more big raids: on April the 22d not less than 275 P-47 and P-51 are over the Belgian railways, on the 27th one squadron of P-47 dive-bombs Florennes/Juzaine with 100-pound bombs before joining, for mutual support, 98 B-17 attacking Le Culot airdrome (Beauvechain) and Middelkerke airdrome. Two B-17 are lost. In May there are almost daily raids with hundreds of allied planes. On the 21st started Operation "Chattanooga Choo-Choo" against what? The German rail movements will severely be affected through France, Belgium and western Germany.
Early June the Belgian skies are quieter, everybody is busy over the Normandy beaches! On D-Day there will be 8,722 USAAF and 5,676 RAF sorties !
By June 14th, 243 B-17 and some B-24 are back at work over our airdromes and other targets
In July many missions will abort due to bad weather but by August the Western Front reaches Belgium and among the many bomb runs, bridges are now taken as targets by B-17.
September 3 In Belgium: 125 P-47 strafe transportation targets and P-51 pilots down 7 FW 190 around Antwerp in half an hour.
On September 4th, 1944 the British Army ground forces liberate Brussels. At the same time the Americans are freeing … Florennes. But the Eight and Nine Air Forces are grounded by bad weather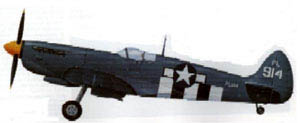 USAAF Spitfire Mk XI – 14th Photo Squadron
CHARLES GOFFIN, Belgian Silver Wings
On 10 May 1940 Charles GOFFIN, Lieutenant Aviateur of the Belgian Aéronautique Militaire, was already an outstanding pilot. On board an obsolete Fiat CR-42 biplane he shot down a Messerschmitt Bf 109. The 15th, protecting a RECCE plane, he shoots another Bf109 and in France, on June 3d, he damages a German bomber. Obeying orders he returns, with his unit, to Belgium and becomes prisoner at the camp of Beverloo. He escapes and in 1941 crosses France to become again prisoner but this time in the sinister Spanish camp of Miranda. In May 1942 he finally reaches England but is medically unfit for the RAF! In 1943 he manages to join the U.S. Army Air Force and becomes Staff Sergeant Pilot in the 14th Photographic Squadron, flying American Spitfires. On 8 September 1944 during his 35th RECCE mission he is shot down, probably by flak, over the Grand-Duchy of Luxemburg.
AMERICANS IN BELGIUM
On September 7th 1944, the U.S. Army occupies the Florennes/Juzaine airdrome and on the 9th, already, the engineers are at work to fill the bomb-holes and utilizing the new Pierced Steel Planks (PSP) they will reopen the field in a record time.
On 9th of September 1944 the 9th AF TAC HQ was moved forward to Jamioulx close to Charleroi, while 8th Fighter Command fighter-bombers attack targets of opportunity throughout Belgium.
The 11th a well-named B-24 "Liberator" is the first American plane to land on the re-opened field of Florennes. And on the 16th and 17th the first unit is deployed there, 422 Squadron with P-61 "Black Widow" and Douglas A-20 night-fighters. They will be joined, in late September and beginning October, by six squadrons of P-38 Lightning, some of them will move at the end of December to Zwartberg and be replaced, in January, by P-47 Thunderbolt. In April 1945 B-26 Marauder medium-bombers will also use Florennes as home field.
Meanwhile Gosselies will host, as from September 20th, P-38 F5 Lightning and P-51 F6 Mustang RECCE Squadrons. St.Trond (Brustem) will receive P-47 on 30th of September. Chièvres gets P-47 and P-51 and Le Culot (Hamme-Mille/Beauvechain) is for a few days a RAF base, from October American P-47 and in 1945 B-26 squadrons will be based there. RECCE P-51 F5 Mustang and P-38 F6 Lightning will use Le Culot/East (Les Burettes), from October 44 till March 45. Asche (As-Limburg) will have P-47, P-51 and later B-26, Ophoven (Limburg) P-38, P-47 and P-51. Liège (Bierset) will mainly become a fighter Repair Station but it will also be part of the RED BALL EXPRESS airlift missions, handling hundreds of C-47. In 1945, Temploux was created as an army liaison field. Virton (Latour) will handle light liaison aircraft but also C-47. And Vogelzang will receive the P-51 RECCE from Gosselies The Royal Air Force and Royal Canadian Air Force will occupy Evere, Melsbroeck, Grimbergen, Deurne and more airdromes on the western side of Belgium.
Quite an armada in our small country and this almost until the end of World War II. The heavy-bombers and transports remained based in the U.K. but many will be landing at Belgian fields. Some B-17 and B-24 on emergency landings but also some on fuel shuttle runs to Chièvres and Florennes to supply the 1st U.S. Army ground forces in the coming critical battle.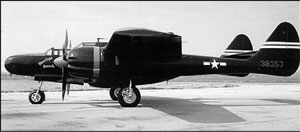 P-61 Black Widow
BATTLE of the BULGE, 16 December 1944
Operation "Wacht am Rhein", the German Army's Ardennes counteroffensive of Field Marshal von Rundstedt is amply protected from Allied air power by a virtually impenetrable wall of bad weather that effectively obviates air support for the U.S. ground forces throughout the battle area.
During the night of December 16/17, despite horrendous weather conditions, P-61 crews of the 422d Fighter Squadron from Florennes down 5 German aircraft over Belgium and western Germany.
BATTLE of the BULGE, 17 December 1944
The 9th AF Bombardment division is grounded by bad weather. The 9th AF fighters and fighters-bombers mount 647 effective sorties but few over the weathered Ardennes battle area.
BATTLE of the BULGE, 18 December 1944
Despite total cloud cover and low ceiling, two 67th Tactical Reconnaissance Group F-6 Mustang pilots from Gosselies locate a key German Army combat column on a road near Stavelot, with the result that P-47 flights from the 365th & 368th Fighter Group (FG), from Chièvres, continuously attack the German column until it is too dark to continue. In the course of seven four-plane missions flown between high hills and through heavy gunfire and flak, it is estimated that 32 of 60 tanks are destroyed along with at least 56 of 200 trucks.
The 9th AF alone will complete approximately 500 fighter and fighter-bomber sorties in the Ardennes region. The Luftwaffe will also fly more than 500 sorties in an aerial offensive and loose 40 fighters to the 9th AF and 10 more against the 8th AF fighter pilots.
BATTLE of the BULGE, 19 December 1944
Bad weather again, only a small number of the 9th AF fighters and fighter-bombers are able to support the U.S. ground forces. In anticipation of a possible emergency in the face of the German offensive, most of the 29th TAC Headquarters component is withdrawn from Maastricht to St.Trond.
BATTLE of the BULGE, 20, 21 & 22 December 1944
More bad weather over the Ardennes and only a few strafing missions.
BATTLE of the BULGE, 23 December 1944
The weather begins to clear : 260 C-47, escorted by three 9th AF Fighter groups, drop critically needed supplies to the U.S. 101st Airborne Division at encircled Bastogne. 8 of the C-47 are downed by flak.
The 352d Fighter Group, a veteran 8th AF P-51 unit, moves from Bodney, England, to the Advanced Landing Ground A-84 at Chièvres, to temporally bolster the 9th AF units waging the Battle of the Bulge.
Lt. Lenton F. Kirkland, Jr., a P-38 ace with the 474th FG 429 FS is downed by flak and killed near Liège. On the first reasonable good weather day in a week, 9th fighters and fighter-bombers mount 696 effective combat sorties, the bulk of them in and around the Bulge battle areas. 9th AF looses 19 fighters.
During an estimated 800 sorties, over western Germany and Belgium, 8th & 9th AF fighter pilots down 144 German fighters and 1 Ju-88.
BATTLE of the BULGE, 24 December 1944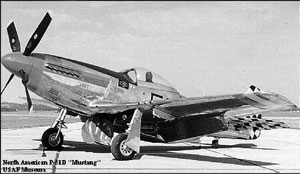 The arrival of a solid high-pressure system finally clears the sky over northern Europe. A maximum effort is made by 8th AF; 1,874 heavy bombers and 800 RAF heavy bombers, the largest single heavy-bomber strike of WW II, attack on a wide range of airfields and lines of communication throughout western Germany. USAAF losses are 12 heavy bombers and 10 of 813 8th AF escorts and scouts. 376 9th AF Medium Bombers attack communication centers and rail bridges. Thanks to the disruption of LW bases by the heavy bombers not a single 9th AF bomber is lost.
1,157 9th AF fighter's sorties support the U.S. Army ground forces throughout the Bulge battle areas of eastern Belgium and Luxemburg. 8th and 9th AF pilots down 95 German planes over Germany and eastern Belgium in eight hours time. They will also destroy 736 motor vehicles, 167 rail cars, numerous tanks and artillery pieces and kill an uncounted number of German Army soldiers.
BATTLE of the BULGE, 25 December 1944
At 12:33, moments after shooting down 2 Bf-109, Maj. George E. PREDDY, the Commanding Officer of 328th Fighter Squadron, now based at Chièvres, the highest-scoring ace still flying in combat, is shot down and killed by friendly antiaircraft fire while chasing another German at low level. PREDDY's final score is 26.833 confirmed victories, leaving him second only to Lt.Col. Francis S. GABRESKI in the European Theater of Operations ( ETO ).
BATTLE of the BULGE, 26 December 1944
As the German offensive runs out of steam, 9th AF Bombers attack bridges and other communication and lines-of-supply targets along the Belgian-German border. The fighters and fighter-bombers support the ground forces in the Bulge battle area.
Gliders loaded with supplies for surrounded elements of the U.S. 101ST Airborne Division are released over Bastogne by C-47.
Seventy 8th Fighter Command P-51 temporarily assigned to the 9th AF attack tactical targets in eastern Belgium. Two of the P-51 are lost. 1st Lt. Duerr "H" SCHUH, a P-51 pilot with the 487th Fighter Squadron, achieves ace status when he downs 3 Bf-109 over Belgium at 15:15 and 1st Lt. Paul A. SMITH, a P-61 pilot from Florennes, achieves ace status when he downs 2 Ju-188 near St. Vith between 22:10 and 22:53.
On that day the 8th and 9th AF pilots down a total of 63 Germans over western Germany and eastern Belgium.
BATTLE of the BULGE, 27 December 1944
73 Germans are downed. Three P-51 pilots from the 352d Fighter Group at Chièvres achieve ace status : 1st Lt. Earl R. LAZEAR Jr. downs a Bf-109 near Bonn, 1st Lt. Raymond H.LITTGE downs 3 Bf-109 near Mauer and Maj. William T. HALTON, C.O. of the 487th Squadron, downs also 3 Bf-109 and shares the downing of a 4th near Bonn. Two pilots of the 364th FG will also become aces that day.
The whole 9th AF fighters, fighter-bombers and bombers support US Army ground forces in the Bulge battle area. On the last days of the year the weather deteriorates again.
1 JANUARY 1945 Operation "Bodenplatte"
At very low level, avoiding the radars, 900 Luftwaffe fighters attack by surprise 16 allied airdromes in Western Europe. At least 30 USAAF aircraft are destroyed and 62 are damaged.
The RAF 2d TAF had 162 aircraft destroyed and 62 damaged. About 150 Fw-190 and Me-109 attack the three Brussels' airports. In Melsbroek 24 B-17 and 36 RAF planes are destroyed, at Evere 3 C-47, 1 B-17 and 35 RAF planes, one Spitfire is lost in a dog-fight, Grimbergen is almost empty but still some B-17 and C-47 are set on fire.
At Asch twelve P-51 Mustang of 487th squadron are ready to take-off when more than fifty German fighters appear. In forty-five minutes of dog-fight the Americans will down 13 Fw-190 and 10 Bf-109, one of the Mustang is shot down by the local flak ! 1st Lt. Sanford K. MOATS achieves ace status in this battle when he downs 4 Fw-190, 1st Lt. Alexander F. SEARS downs a Bf-109, being his 5th kill he also becomes an ace, Capt. William T. WHISNER downs 2 Fw-190 and 2 Bf-109. It brings his tally to 14,5 confirmed victories, he will add one more before the end of WW II and 5,5 more in Korea. 488th Squadron Commander, Lt.Col. John C. MEYER brings his final WW II tally to 24 confirmed victories when he downs 2 Fw-190, he will add 2 more victories in Korea !
Florennes is not attacked and Le Culot, where 150 P-47 are sitting on the ground, is the target of Jagdgeschwader IV. It misses entirely its navigation and the base.
In St. Trond the damages are limited. A young German pilot belly-lands his slightly damaged Fw-190 and is made prisoner. The very next day the 404th Fighter Group repaired and repainted the plane in … bright red and made jealous all the other pilots.
In all USAAF fighters are credited with downing 69 LW planes over Belgium and Germany and RAF fighter pilots are credited with downing approximately 100 LW planes, all at a cost of 6 Allied fighters down. Germany is not short on planes but on pilots.
JANUARY 1945
The 9th AF rear HQ is at Charleroi. On January 2d the 8th AF Service Command advance HQ is established in Brussels and on the 4th, the 8th Fighter Command Headquarter begins moving from Bushley Park in England to Charleroi. Almost daily, depending on the weather, the 9th AF attacks will depart en masse from our airdromes to reduce the Bulge salient.
The Luftwaffe is running out of steam … pilots and petrol. But the war is not over yet.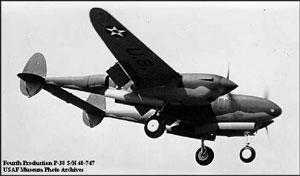 P-38 Lightning
Some noticeable January's events :
On January 14th, more than 280 9th AF medium-bombers attack the German Army ground forces in the shrinking Ardennes salient and in nearby areas of Germany. While 847 8th AF heavy-bombers attack oil-industry targets and highway bridges, 7 B-17 and 8 escort-planes are lost. It's the best one-day tally for USAAF fighter pilots; they down a record 174 LW fighters over Germany and the Netherlands. Many pilots achieve ace status that day, among them 1st Lt Ernest O. BOSTROM, a Chièvres based P-51 pilot. He downs a FW-190 near Almelo in the Netherlands.
On January 20th, still three weeks short of his twentieth birthday, 1st Lt Dale E. KARGER, a P-51 pilot becomes the youngest American ace in WW II when he downs a Me-262 jet near Munich.
On January 22d, 167 B-17 attack a synthetic-oil plant at Sterkrade and 30 other B-17 attack several targets of opportunity. Five B-17 are lost.
During the morning, large components of the German Army withdraw into Germany from Belgium, 304 9th Bombardment Division bombers attack road and rail targets in eastern Belgium and western Germany. 49 B-26 destroy the border-bridge spanning the Our river at Dasburg, east of Clervaux in Luxemburg, creating a traffic jam amounting at the onset to an estimated 1,500 German Army vehicles. These vehicles are attacked through the remainder of the day by air-controlled US Army artillery and fighter-bombers, which destroy at least half of the trapped vehicles. The same happens a bit further on the road at Prüm. 13 Fighters will be lost during the ground-attack missions at Dasburg and Prüm.
For the next three days the slaughter goes on at Dasburg, Prüm and other nearby locations. 9th AF ground-attack aircraft, most of them taking-off from Belgium, are credited with the destruction of 61 tanks, 125 other armored vehicles, 3,627 motor vehicles, 149 gun emplacements, 35 locomotives, 1,157 rail cars and an unknown number of horse-drawn vehicles.
On the 27th all operations are cancelled due to bad weather
It's only on the 28th of January that the German ground forces will be pushed back behind the Siegfried Line.
FEBRUARY 1945
The activity at our airdromes is intense. Many Belgian-based allied pilots will become Aces. To be remembered is operation Clarion started on Feb. 22d, jointly with the 8th AF mostly from the U.K., the 9th AF from Belgium and the rest of the Continent, and the 15th AF from Italy. Thousands aircraft are attacking the German transportation system. It is a prelude to the Army's operation Grenade; the final drive to the Rhine River.
The 11 Lightning F-5 pilots of a Le Culot-East based squadron will each receive a DFC for today's action. Their Commander Lt.Col. Jim SMELLEY, leading the flight of 12, was awarded the Silver Star. They achieved the biggest photo mission of the 9th AF, the photomap of over 3,000 square kilometer of "Flak Alley", the northern Rhur. The 33d Photo Recce Squadron (PRS) mission was a big success. The next day every US 9th Army platoon leader, engaged in the offensive, carried a photograph of the position he was to capture. The details showed the enemy gun positions and fire trenches!
The Le Culot Recce F-6 Mustang missions, consisted of marking targets with magnesium bombs, three-inch rockets or tracers to guide the fighter-bombers. During armed RECCE missions, several pilots achieved Ace status flying solo or in pair.
MARCH 1945
On March 2d the 8th and 9th AF down 71 LW planes over Germany. 1st Lt. Herman E. ERNST, a P-61 pilot with 422d Squadron at Florennes, achieves ace status when he downs 2 Ju-87 over the Rhine. 2d Lt. Edward H.KOPSEL is his radar operator, and thus a radar-ace in his own right. On March 13th Capt. Joseph E.MILLER, a P-38 pilot from 429th Squadron at Florennes, with already 4 victories in the Mediterranean, downs a FW-190 near Honnef, Germany, and so also becomes an ace. On March 14th,among numerous 9th AF fighter missions, some Le Culot ( Beauvechain ) P-47 pilots locate more than 50 LW bombers and escorts preparing to take off from Lippe Airdrome to attack the Ludendorff rail bridge held by the US 1st Army at Remagen since the 7th of March. They destroy 23 Ju-87 and a Bf-109 during the course of on-the-deck bomb, rocket, and strafing attacks. Minutes later 12 P-47 from St.Trond ( Brustem ) destroy 12 of the remaining Ju-87 and Bf-109. Two of the 404th FG are lost in a midair collision. Thereafter, LW attacks against the Ludendorff bridge and several new engineer bridges (amounting to 372 sorties between March 7th and 14th) drop off precipitously. Capt. Donald S. BRYAN, a P-51 ace with 352d FG, brings his final tally to 13.333 confirmed victories when he downs an Ar-234 twin engine jet bomber near Remagen.
On March 19th, 1st Lt.Joe W.WAITS a P-51 F-6 pilot with 162d RECCE Squadron from Le Culot achieves ace status when he downs a Bf-109 near Stuttgart. The Florennes P-38 from 474th FG move to Advance Landing Ground Y-59 at Strassfeld, Germany. The 36th FG P-47 move, on March 30th, from Le Culot to Aachen to be replaced, the next day, by the 322d MBG B-26. The 67th RECCE P-51 from Gosselies move to Vogelsang, Trier and later to Limburg and Eschwege.
APRIL 1945
B-26 medium-bombers arrive at Florennes, St.Trond and Asche. Heavy fighting goes on over Germany and 1st Lt.Eugene D.AXTELL, another P-61 night-fighter pilot from 422d SQ, achieves ace status when he downs a Ju-52 on each of two separate missions near Kassel. On April 13th Capt. Clyde B.EAST, a Mustang F-6 ace brings his final personal tally to 13 confirmed victories and secure his place as the USAAF's top-scoring RECCE F-6 ace when he down a Bf-109 near Hof in Germany.
On April 16th, 8th AF fighters from 15 groups claim the record of 747 LW planes destroyed on the ground while strafing airfields in Germany and Czechoslovakia, 34 American fighters are downed mostly by light flak and small arms and 30 LW planes are downed in dog-fights.
On April 21st, some FG are ordered to stand down after flying what turns out to be their last combat missions of the war. On April 22d, the Red Army ground forces enter Berlin and on April 30th Adolf Hitler commits suicide.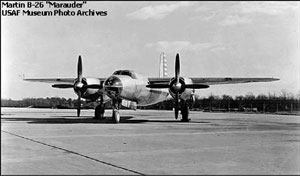 Martin B-26 Marauder
MAY 1945
The 1st the 9th AF fighter-bombers dive-bomb the German alternate HQ at Berchtesgaden. B-17 airdrop food to Dutch civilians.
On May 4th, 9th Air Division is ordered to stand down, but 9th AF fighters fly armed-reconnaissance missions throughout regions of Germany, Austria, and Czechoslovakia not yet occupied by Allied ground forces. 6 LW aircraft are downed, including the last jet fighter and 29 LW jets are destroyed on the ground.
On May 5th, the surrender of German forces in the West becomes effective at 08:00 hours. The 9th AF flight operations are limited to six reconnaissance missions but the 22d TAC fighters strafe many LW aircraft near Munich.
On May 6th, our friends from the 373d FG fly P-47 "demonstration" missions over the region of Klotze. On May 7th, there are more P-47 sweeps and 9th AF F-6 reconnaissance planes are attacked at various times by 4 FW-190, of which one is shot down near Prague.
MAY 8 is V-E DAY. Fighter units mount the last USAAF operational combat missions of the war in Europe ­ amounting to several hundred effective sorties, mostly in the form of sweeps over territory still held by the German Army. 9 LW planes and 1 AF F-6 are downed. 2d Lt. Leland A.LARSON, a five-victory F-6 ace with 10th RECCE Group shoots down a FW-190 and becomes the last ace in the European Theater of Operations. The last official victory in the war against Germany is awarded to 2d Lt. Kenneth L.SWIFT of 474th Fighter Group's 429th Fighter Squadron when he shoots down a staff plane. He was still in Florennes in March.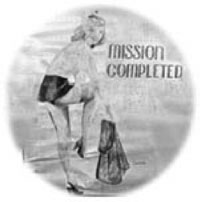 VICTORY
On May 9th 1945 all hostilities throughout the Continent of Europe are officially terminated at 00:01 hour. The Japanese will only surrender on 2d of September after other Air Force feats. But those are other stories.
Air power had played a vital role in the allied victory in WW II and the United States certainly brought the decisive power. This was achieved through a colossal human, industrial and money involvement. From an impoverish force of 1100 combat planes in December 1941 the USAAF grew, at the end of WW II, to an armada of 80.000 planes. An all-time high number of 2,372,292 American airmen were in uniform in 1944
Altogether, in the air war against Germany and her partners, U.S. Army Air Forces were officially credited with 11,268 aerial victories. By the end of 1945 the Belgian airdromes were deserted. The heroes had gone home. The only territories claimed by the western allies were those of the military graveyards.
IN DEBT
For our recovered liberty, we are in debt to all the allied soldiers. Many lost their lives for us and some are still buried in Belgium. There are three beautifully laid and maintained American Military Cemeteries in our country; they are worth a visit to honor the fallen heroes.
FLANDERS FIELD Cemetery at Waregem, contains the remains of 368 American military and support personnel mostly killed during the last offensive of WW I. Seven Aviators are remembered there: four of them on the Wall of Missing. Two of them, 1LT. Galloway G. CHESTON and 1LT. John Mc. GRIDER, were detached to British Air Squadrons. From the U.S. Army 103 Aero Squadron was 1LT. Ernest A.GIROUX, Distinguish Service Cross and French Croix De Guerre. From the 17 Aero SQ are 1LT. Murray K. SPIDLE and 1LT. George P. GLENN. They are buried in the cemetery as are 1LT. George H. ZELLERS from the Army Air Service and LT. Kenneth MACLEIGH from the US Naval Reserve.
HENRI-CHAPELLE Cemetery is home for many soldiers of the Ardennes and Bulge battles. Among the airmen buried there is the recipient of one of the 37 AF Medal of Honor. &Brig.Gen.Frederick W. CASTLE, born in Manila Philippines, Commander of the 94th Bombardment Group, earned the highest honor medal as Air Commander in a strike against Luftwaffe fields and communications centres that could support the enemy drive of operation Bodenplatte in the Ardennes.
On 24 December 1944 he would lead the more than 2,000 heavy bombers, escorted by 1,000 fighters--the largest force ever assembled. He would fly with the 487th Group, his 30th combat mission. En route to the target, flying at 22,000 feet over Belgium, the failure of one engine forced him to relinquish his place at the head of the formation. In order not to endanger friendly troops on the ground, he refused to jettison his bombs to gain speed and maneuverability. His lagging unescorted B-17 became the target of numerous enemy fighters, which ripped his left wing with cannon balls, set the oxygen system afire and wounded two crewmembers. Repeated attacks started fires on two engines, leaving the Flying Fortress in imminent danger of exploding. Castle ordered the crew to bail out of the barely controllable aircraft. Six of them left the doomed bomber while the general took over the controls to give the pilot time to retrieve his parachute. It was too late. The right wing tank exploded, and the big bomber spun in from 12,000 feet, killing Castle and the pilot, Lieutenant Harriman. Brig. Gen. Frederick W. Castle, for whom Castle AFB, Calif., was named, was awarded the Medal of Honor posthumously for his valiant attempt to save his crew at the cost of his own life. This quiet, reserved man, so untypical of air combat commanders of his time, demonstrated by his life and in his death that there is no common mold for either leadership or heroism.
ARDENNES Cemetery Soldiers from every battle in the European Theater are buried at Neuville-en-Condroz, with a majority of Bomber's crews. More than half of the individuals buried here were repatriated to their families.
The cemetery still holds 5,328 heroes. 3 are Medal of Honor's holders.
Ardennes Cemetery & Memorial at Neuville-en-Condroz
&Staff Sergeant Charles F.CAREY Junior an Infantryman received the Medal for attacking enemy tanks at Rimling (France).
&Major John L.JERSTAD volunteered for a low level Bomber attack on the strategic oil-refining facilities at Ploesti and Campina in Romania. On 1 August 1943 he was co-pilot to LtCol. Addison E.BAKER on the 93d Heavy Bombardment Group led B-24 that was severely damaged during the final approach to the target. Nonetheless the pilots continue to lead the formation, and both are killed shortly after its bombs have been dropped. They will receive the Medal of Honor.
&Last Medal's holder buried here is Captain Darrell R.LINDSEY. Leading the 394th Medium Bombardment Group B-26 he is hit by flak while attacking the "Ile d'Adam" Seine River Rail Bridge, near Pontoise, on August 9, 1944. Captain Lindsey completes the bomb run and then orders the crew to bail out while he remains at the controls. When the bombardier offers to lower the nose wheel to aid in Lindsey's departure, Lindsey refuses because he feels the lowered wheel might induce a spin that will prevent the bombardier's escape. Lindsey then rides the flaming Marauder into the ground and is killed.
POSTWAR
In June 1946, an agreement between Belgium and Great Britain was signed, so that Belgium could create an autonomous Air Force with British support. The "Aéronautique Militaire Belge" (AMB) became autonomous on October 1st of the same year. No allied flying units remained based in our country but well in other parts of Europe.
As the result of the tension between the Soviet Union and Western Europe; Great Britain, France and the Benelux signed in Brussels, on March 17th 1948, the defense pact called "Western Union". It was expanded to the North Atlantic Treaty Organization (NATO), on April 4th 1949.
On January 15th 1949, the Aéronautique Militaire Belge was renamed the Belgian Air Force (BAF- Force Aérienne & Luchtmacht in the native languages). It was foreseen that the BAF would have strength of 20 fighter and 3 transport squadrons.
In the early days of the Cold War NATO aircraft flew round-the-clock combat air patrol. The 1950-1953 Korean War increased worldwide pilot demand.
BELGIANS IN AMERICA
In 1948 the United States signed a Mutual Defense Assistance Program (MDAP) with several countries. Some Belgian Air Force student pilots started their training in the USAF in 1951. From 1952 through 1955 : 371 Belgians obtained the USAF "SILVER WINGS" in classes 52-A to 55-V. They flew 234 F-84E/G in 10 Belgian Air Force Squadrons based at Bierset, Florennes, Kleine Brogel in Belgium and Wahn in Germany and later converted to F-84 F and RF-84F (respectively 197 and 34 of them).
This number of 371 is to be compared with 155 pilots trained at the same time at home or Kamina, in what was then the Belgian Congo. The home trained pilots joined the 9 slower Meteor Squadrons at Beauvechain, Chièvres and Brustem and later at Koksijde. Some USAF graduates of the "55" classes also reinforced those units which were short of home graduated pilots.
MDAP TRAINING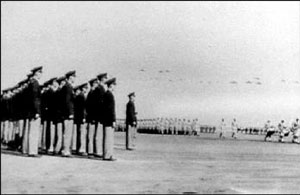 About 15% of the original candidates passed Military Pilot selection Tests: vision, coordination, reflexes and adaptality to service flying. After a flight screening in Belgium, to prove flying ability, the met the hard discipline and severe flying standards of the USAF. They had an insight of the American capability of expanding training facilities at short notice.
In the primary training, + 50% of the remaining candidates washed-out of the program.
After the T-6 "Texan", further training was performed on P-51 "Mustang" for some and on T-28 "Trojan" and T-33 "T-Bird" or F-80 "Shooting Star" for the other training survivors.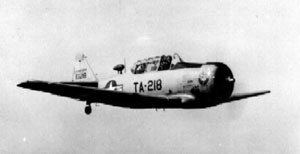 -6 picture courtesy of Phil « Mozart » Van Beethoven
After graduation, the new "Silver Wings" pilots started their operational life on the single seater F-84 "THUNDERJET" either at Luke AFB, Arizona, during gunnery or in Belgium. It was the first production fighter-bomber equipped with an in-flight refueling capability, and it was the first fighter to have the ability to deliver an atomic weapon. Both of these firsts were extremely important in the development of the Cold War and they led to the significant capabilities that today's fighters still feature.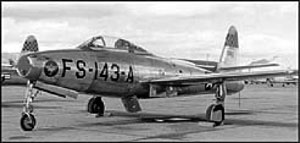 F-84 Thunderjet
ENJJPT , Euro NATO Joint Jet Pilot
From 1971 until early 2003, another 88 Belgians earned the Silver Wings. As fighter pilots they flew the F-104 STARFIGHTER and now the F-16 FALCON.
LOST COMRADES
The first generation of jet aircraft was prone to accidents. Many Silver Wings pilots paid the supreme price for the cause of liberty in the accomplishment of their dream and their duty. Their names are engraved on the Air Force Memorial Monument near the Brussels Air Museum in the "Cinquantenaire" Park. They are particularly remembered every year during the Air Force Day ceremony.

Brussels' Belgian Air Force Memorial ­ 13 October 2002
A MEMORIAL DAY Ceremony is also held, each spring, at every American Battle Monument. The Silver Wings Association is represented on Air Force Day and at the Neuville-en-Condroz Ceremonies.
SILVERWINGS
Is the name of the brotherhood Association of Belgians who earned their pilot wings in the United States Air Force ­ USAF.
Their friendship started as aviation cadets or student pilots on the other side of the Atlantic and developed in their homeland squadrons. On the 25th Anniversary of pilot class 54-O they started reunions to perpetuate their links and their legendary spirit. As from May 2016 the association transferred into a sleeping mode, awaiting a kind of internal reorganisation. .
ABBREVIATIONS
AF: Air Force
BAF : Belgian Air Force, from 1946
C.O. : Commanding Officer
ETO : European Theater of Operations
FG : Fighter Group
Flak : Flieger Abwehr Kannonen = Antiaircraft gun
FS : Fighter Squadron
FW : Fock Wulf
HQ : Headquarter
LW : Luftwaffe
MBG : Medium Bomber Group
PSP : Pierced Steel Plank
PRS : Photo Recce Squadron
RAF : Royal Air Force
TAC : Tactical Air Command
TRG : Tactical Recce Group
UK : United Kingdom
US : United States
USAAF : United States Army Air Force
USAF : United States Air Force,
USAAF : successor in 1947
USG : American Gallon = 3,78 liters
V.E.DAY : Victory Day in Europe
WW : Word War
Locations are spelled according to the allied war reports
All omissions and errors on the account of Mich Moulin
Special Thanks to:
Bob the "BlueLeader,"
Georges the"Video Narrator" and
Bob the "VTB's Bee", for their kind assistance.
Bibliography
Air Force Magazine/USAF Association
Air War Europa /Eric Hammel
L'aviation américaine en guerre/Time Life
The Belgian Air Force/John Pacco
Brussels Air museum Magazine
Brussels Airport/Frans Van Humbeek
Charles Goffin /Guy Destrebecq
Florennes Air Base/50 ans d'histoire
L'Histoire de l'Aviation/Hergé
History of Aviation/John W Taylor
La Luftwaffe/Time Life
Mach 1/Editions Atlas
Runways to Victory/Peter Celis
Silver Wings / Walter J. Boyne
Wings of Fame/Aerospace Publishing
www.abmc.gov
silverwings.usaf.be
www.wpafb.af.mil